Minicity Ljubljana is a theme park in the shape of a little city, composed of streets, roads, houses and a green park. It houses a little bakery, bank, police and fire station, altogether more than 40 thematic corners in which children get acquainted with their dream professions through play and acquire useful skills for everyday life.
Minicity is a thematic entertainment programme, which implements the play-based approach and is intended for children from 2 to 12 years of age. Under the guidance of experienced animators, children learn about different professions and acquire useful skills for everyday life through educational play. The Minicity programme is implemented within the theme park shaped like a little city, located in the biggest shopping mall BTC City in Ljubljana.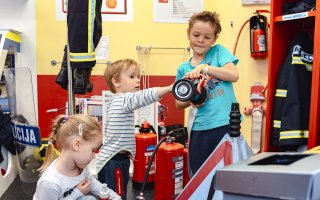 Minicity Ljubljana has a little Cafe with a variety of food and drinks. Enjoy your smoothies, refreshements, ice-cream, home made pies, pizzas, salads, sandwiches and other.
Children younger than two years can explore our Toddlers Corner, they can crawl, recognize shapes and colours, stack blocks, practice walking, eat or play something. The Corner is furnished with soft pillows and quality didactic toys. It is located just a few meters from the Little Café & Cake Shop, so that parents can enjoy their coffee in peace and without worrying.
If you want to explore Minicity Ljubljana prior to your visit, you can explore our virtual tour. There are two kinds of tickets, you can choose: daily ticket and hourly ticket. Both are valid for one child and one parent. Please see our pricelist here. We are looking forward to your visit!