 Živa
Mayoress
A 12-year-old mayoress Živa successfully leads the little city for the second year in a row. She makes sure that all the little visitors have a lot of fun in our town and that parents can rest for a moment.
E-mail: info@minicity.si Miha Culiberg
Director and founder
A businessman, who once spent more time abroad than at home, has succeeded together with his wife Jasna in impressing the partners with the idea about the creative children's city Minicity. To a father of four children Minicity allows him to finally spend more time with his family in Ljubljana and at the same time to bring his children to work. Together with his team he takes care that Minicity Ljubljana meets the expectations of children, parents and partner companies.
E-mail: miha.culiberg@minicity.si Jasna Žaler Culiberg
Sales and marketing director and founder
A sportswoman, business woman and mother, who impressed Slovenian companies to join us with her energy. Thanks in particular to her, the best domestic and foreign companies, who have recognised the advantages of our project, have joined us. Sales and marketing are her professions, whereas public speaking and PR are her hobbies. Jasna is the energy drink of our team; thanks to her, we successfully complete each project, even when we are completely exhausted.
E-mail: jasna.zaler.culiberg@minicity.si Marko Anžur
Director of finance and accounting, founder
Marko makes sure that our bills are paid and that finances are sorted out. We admit that he often gets angry when we want to make Minicity Ljubljana even more friendly for our guests and forget that we have exceeded estimated costs, but when he sees children's happy faces, he quickly forget his anger.
E-mail: marko.anzur@minicity.si Špela Končar
Key Account Manager
Špela is the organizing right hand of our leadership and the staff manager of the Minicity team, which takes care of all employees with great care. As a graduate teacher of class education, she helps in designing activities related to schools and kindergartens. She is an inexhaustible source of energy and positive thoughts.
E-mail: spela.koncar@minicity.si Manja Plesničar
Has a bachelor degree in Marketing and many years of experience in B2B marketing management and B2C campaigns for world-renowned subscribers. Always strives to digitize processes and carrying out campaigns with measurable results, a fan of writing and creative. Mommy of two children and amateur designer of clothes and unique jewelry.
E-mail: manja.plesnicar@minicity.si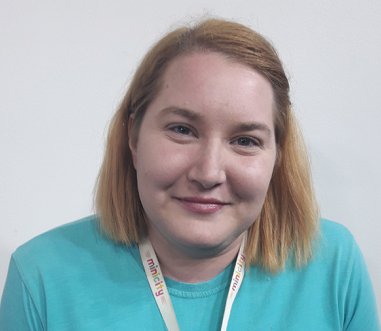 Lea Jaklič
She is a professor of class teaching, she has great experience in working with children of addicts, experiences with physically disabled, children with paralysis and epilepsy. Participates in the camps Sonček, and in Minicity successfully animates the visitors of all age groups. Nina Sešelj
Nina, with her professional knowledge, which she aquired as a teacher, carries out professional transfer of contents of subscribers to children and in accordance with Slovenian school curriculum.
External experts Tina Tavčar
Tina is a graduate culturologist who, with her positive approach and sense of humor, leads the entire animation team. With her inspiration and many experiences in a professional theater, she always finds the way to the heart of our youngest visitors.
E-mail: tina.tavcar@minicity.si